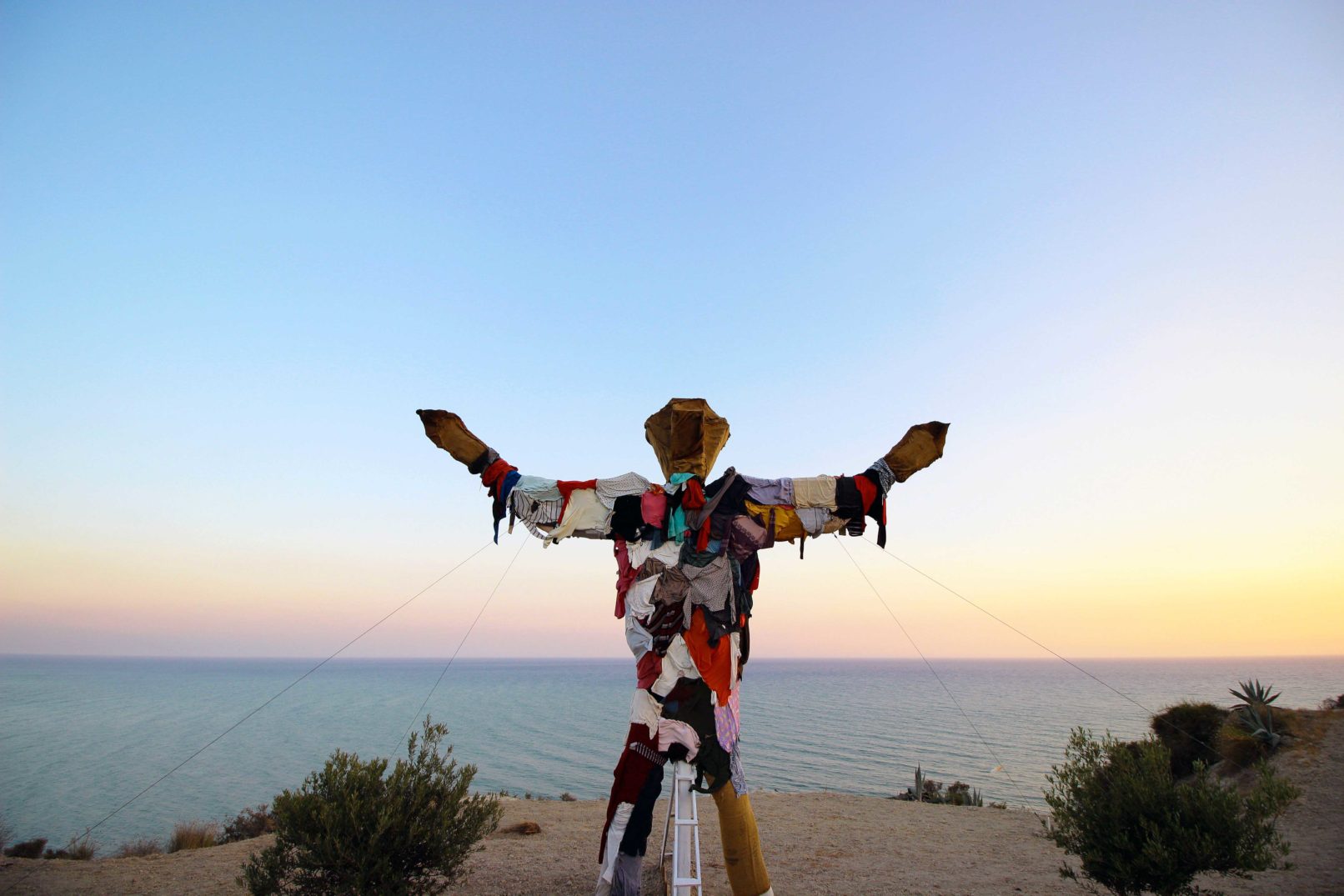 The great Hug di Sergio Barbara
Sergio Barbàra – The great Hug (Fotografia dell'installazione per White Wall/Scala dei Turchi), Stampa fotografica su forex 50x70cm, 2016
Ho elaborato The great Hug all'interno del ciclo di residenze White Wall a Scala dei Turchi, un tratto di costa siciliana fortemente caratteristico dal punto di vista ambientale e saltuariamente messo a rischio da abusi e vandalizzazioni; un altro tratto fondamentale del territorio in cui ho elaborato l'installazione è l'esposizione verso le coste africane e Lampedusa, una direzione nella quale si realizzano molte dinamiche geopolitiche che coinvolgono il Mediterraneo. Su questa direzione ho posizionato Hug, un gigante antropomorfo (per un'altezza complessiva di sei metri) composto di abiti e cenci consunti, dono degli immigrati residenti nel quartiere storico Ballarò di Palermo. Se gli stracci sono il simbolo delle vittime dell'indifferenza dell'Europa, il gigante e il suo gesto sono un invito alla fratellanza e all'accoglienza delle diversità.
---
The great Hug (Photograph of the site-specific installation for Scala dei Turchi White Wall) Sergio Barbàra Photographic print on forex 50x70cm, 2016
I created The great Hug during the cycle of residences White Wall at the 'Scala dei Turchi', a stretch of Sicilian coast characterized by a particular type of environment, often put at risk from illegal building and vandalism; an other fondamental feature of the area where I placed my work is its exposition to African coasts and Lampedusa, a direction in which many geopolitical dynamics about Mediterranean area are involved. The great Hug is located on that direction: it's a anthropomorphic giant (six meters high) composed of clothes and worn out rags, gift of the immigrants residing in the historic district of Ballarò in Palermo. If rags are the symbol of the victims of the indifference of Europe, the giant and his gesture is a call to brotherhood and hospitality.