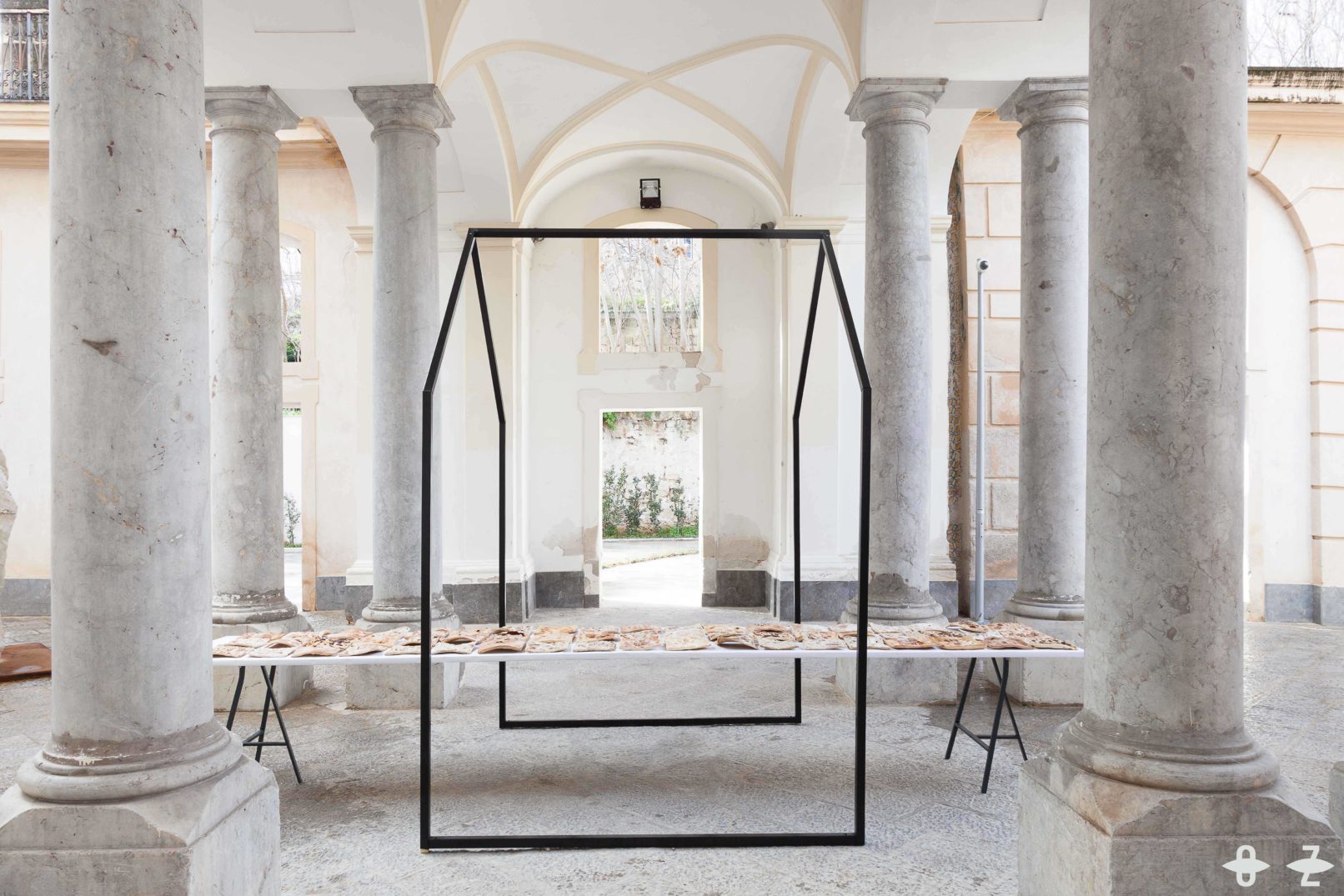 Bet-Lehem o della Ri-nascita di Gandolfo Gabriele David
GANDOLFO G. DAVID  – Bet-Lehem o della Ri-nascita, struttura in metallo verniciato cm 202x202xh303, tavolo contenente pane di antichi grani siciliani cm 80×500, 2016
Bet-Lehem, è concepito come progetto itinerante incentrato sul tema della rinascita e connotato da una struttura in metallo di una casa resa nelle sue forme più archetipali, concepita per includere al suo interno processi e formalizzazioni attivati attraverso dei workshop.
Immigrati e residenti a Palermo hanno potuto conoscersi e confrontarsi attraverso l'esperienza della panificazione. Alle formelle di pane realizzate vengono affidati messaggi, segni, simboli e metafore raccolti con un processo di narrazione.
In aramaico "Bet Lehem" vuol dire "casa del pane", l'installazione quindi manifesta l'archetipo della casa, il focolare in cui le persone trovano nutrimento e riparo.
Il concetto di rinascita è un invito rivolto dall'artista alla collettività, per riflettere sul senso dell'accoglienza, una pratica a partire dalla quale ridefinire il tessuto sociale, economico e civile. 
L'installazione presentata al Museo Riso di Palermo è stata realizzata con la collaborazione di Dimora OZ, Asante Onlus, Missione Speranza e Carità,  giovani del Servizio Volontario Europeo e del Liceo Classico Statale G. Meli.
---
GANDOLFO G. DAVID – Bet-Lehem o della Ri-nascita, painted metal frame cm 202x202xh303, table containing bread made by Sicilian wheat cm 80x500xh75, 2016

Bet_Lehem or Re-birth is a community specific project realised in collaboration with Dimora OZ, Asante Onlus, Missione Speranza e Carità and some young people of the European Voluntary Service and the High school Liceo Classico G. Meli in Palermo. The installation was realised after several workshops in which immigrants and palermitans met and share the experience to make bread together.
The tiles made of bread contain posts, signs, symbols and metaphors collected with a storytelling process.
The Aramaic "Bet Lehem" means "house of bread", consequently the installation manifests the archetype of the house, the home in which people find nourishment and shelter.
The concept of rebirth is a warn by the artist to the community, to reflect on the sense of welcoming, that is important for every country from the social, economic and civil point of view.