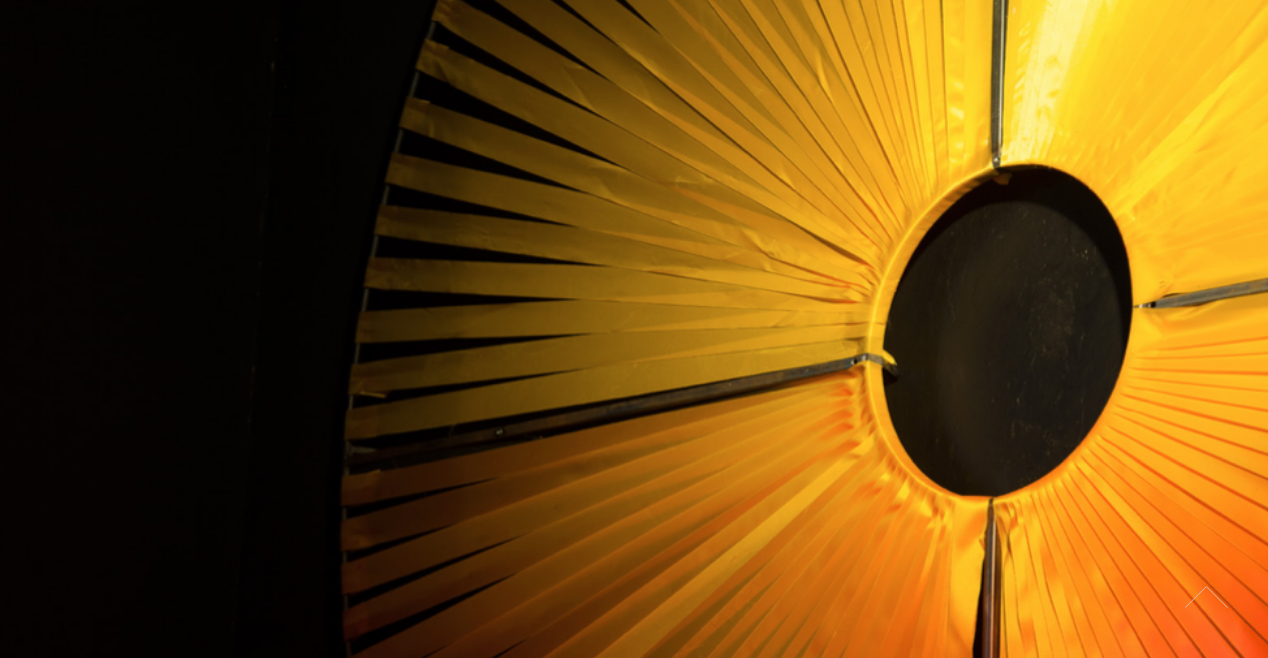 AION \ Sol Invictus di Gandolfo Gabriele David
AION/ SOL INVICTUS Gandolfo Gabriele David, Installazione, ORIGINI 2015 Struttura in metallo, nastri gialli in misto seta e campionatura sonora delle frequenze solari. (Diametro 270 cm x 8 cm.)
l pagani celebravano una festa dedicata al trionfo della luce sulle tenebre e incentrata sulla nascita del dio Aîon, generato dalla vergine Kore, con un evidente riferimento alla dottrina dell'eterno ritorno. Così come il Sol Invictus prima orientale (i culti siriani) e poi adottato nel natale cristiano (380 d.c), Aion unisce formule pagane e cristiane in un unicum spirituale. L'enorme disco solare formato da un anello di ferro e nastri di seta gialla rimanda a due aspetti: da una parte l'oro, elemento positivo, rigenerante, il cui colore è passione e spirito, mentre dall'altra la moneta, il simbolo più consimilare all'astro, che delinea gli scambi ma è anche metafora di crisi, transizione e rinascita.
---
AION / SOL INVICTUS Gandolfo David Gabriel, Installation, ORIGINI 2015 Iron structure, yellow silk blend ribbons and sound sampling of solar frequency. (Diameter 270 cm x 8 cm.)
Pagans used to celebrate the triumph of light over darkness on a fest and focused on the birth of the god Aîon, generated from the virgin Kore, with an obvious reference to the doctrine of the eternal returns. As well as Sol Invictus first Eastern (Syrian cults) and then taken by Christian Christmas (380 AD), Aion combines Pagan and Christian formula in a spiritual unicum. The enormous solar disk formed by an iron ring and silk yellow ribbon refers to two aspects: one is gold, positive, regenerating, the colour of passion and spirit, while the other, the coin, a symbol more similar to the sun, outlining trade but also a metaphor of the crisis, transition and rebirth.